Election 2020 News –
This information will be updated as new information becomes available.
Register to vote: https://www.votespa.com/Register-to-Vote/Pages/How-to-Register-to-Vote.aspx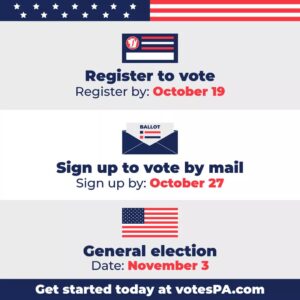 The last day to register is October 19 2020.
VOTING WITHOUT GOING TO THE POLLS
For info: https://www.votespa.com/Voting-in-PA/Pages/Mail-and-Absentee-Ballot.aspx
Mail-in ballot: If you are registered to vote and have a driver's license or a PennDOT photo ID you can apply online for an Mail-in Ballot by going to this site. https://www.pavoterservices.pa.gov/OnlineAbsenteeApplication/#/OnlineAbsenteeBegin
If you do not have photo ID, you can still apply for a Mail-in Ballot using a hard-copy form:
The application for the November Election Mail-in Ballot must be received by Oct 27 2020, but be aware this is the drop-dead date. The election is only 6 days away with a weekend in between and the mails may be slow. It is much better to act early, preferably before October 1st!